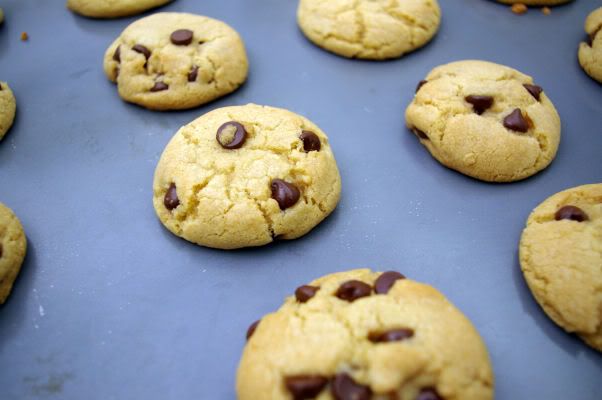 Thursday was my five year anniversary with my boyfriend, and on Wednesday evening, having nothing else for him, I thought I would make some cookies... with a little switch up (am I like
Anna Olson
or what?). At first I was just going to try
this recipe
(scaled up to 24 cookies) which came highly recommended by the members of
Bake! Bake! Bake!
. But the more I thought about it, the less thrilled I was about the entire
cup of butter
these cookies would require. Now, I'm willing to endure a very full stomach and the prospect of weight gain over a sustained period of eating bakery cookies, whose ingredients are technically a mystery and whose fat content is not desirable to imagine. However, I always feel that one of my major goals in baking at home is to make food that is healthier than it would be if I were to buy it prepared.
Anyone who has followed this blog (mum, Ally...) will remember the first post I made included a pie crust made with olive oil. Taking my cue from this, I decided that instead of the melted butter the cookie recipe called for, I would substitute olive oil. Being that I was making these cookies the night before our milestone fifth anniversary and I was starting at 8PM (when I had to be in bed early for work the next morning), I was a little nervous about how the dough would turn out, but mostly certain that it would work just fine. The other thing about making these when I did was that I didn't get many photos, since I was sort of rushing through.


Anyway, without much further ado:



Cookie dough! As much as eating cookie dough is usually rather delicious, when it is made with olive oil, it's not quite as superb.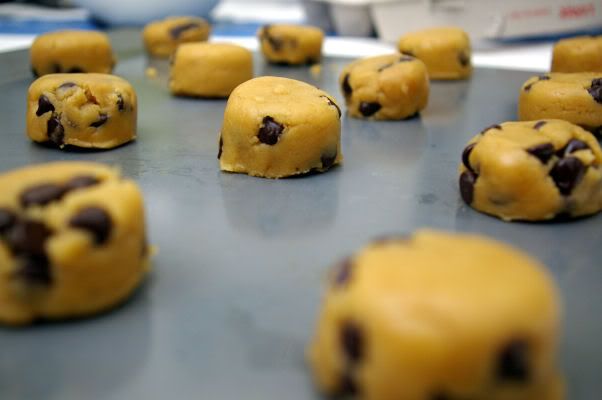 I'm a big fan of cookies that are all the same size, so I used a quarter cup measure to divide up the dough.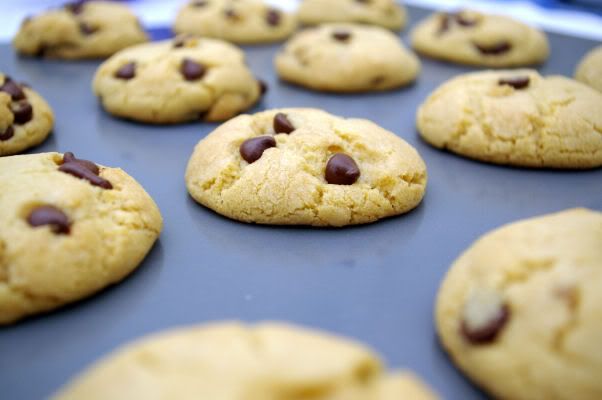 Mmm, fresh out of the oven.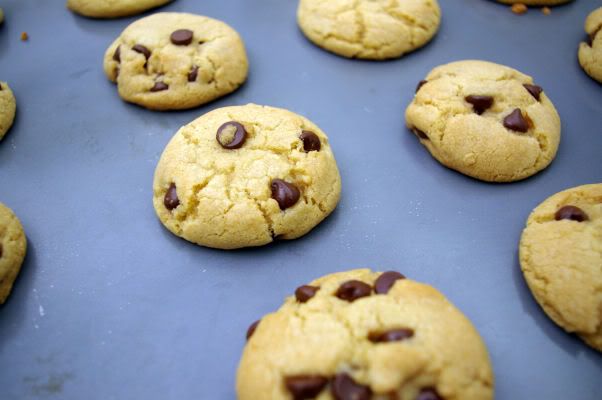 Recipe

Olive oil based Chocolate Chip Cookies

Ingredients
2-2/3 cups all-purpose flour
1 teaspoon baking soda
1 teaspoon salt
3/4 cup olive oil
1-1/3 cups packed brown sugar
2/3 cup white sugar
1-1/2 tablespoon vanilla extract
2 eggs
semisweet chocolate chips, to taste

Method
Preheat the oven to 325°F. Mix together the flour, baking soda and salt; set aside. In a medium bowl, mix together the olive oil, brown sugar and white sugar until well blended. Beat in the vanilla and eggs until light in colour and creamy. Mix in the dry ingredients until just blended. Mix in the chocolate chips by hand. Drop cookie dough 1/4 cup at a time onto the cookie sheets. Bake for 15 minutes, or until the edges are lightly browned. Cool on baking sheets for a few minutes before transferring to wire racks to cool completely.

Honestly, this recipe couldn't be more simple. I was concerned that I would be working on the cookies forever, but all of the cookies were out of the oven by 9.15PM or so! It was great.
I was pretty sure, after making the olive oil pie crust that the olive oil in the cookies wouldn't interfere too much with the cookie flavour. For the most part, I was right. Certainly when the cookies were still warm, the olive oil was pretty easy to taste, but once they had cooled down, they tasted just like normal cookies, with a very slight olive oil after taste. This is not unpleasant at all. In fact, just knowing that it's healthy mono-unsaturated olive oil fat instead of saturated butter fat is a treat in and of itself.

Anders (and everyone else who tried them) loved them, too! As much as I love my grandmother's recipe for cookies, I think this will become my go-to.

Guten Appetit!