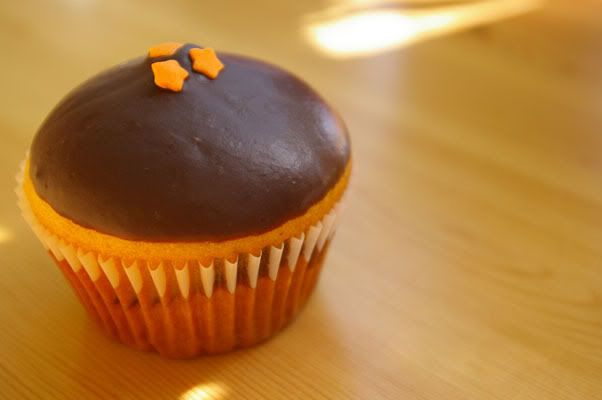 It was my birthday well over a month ago now. On that day, I had one class at 8.30AM. I decided to treat those who actually showed up by bringing in cupcakes. Also, I just like making cupcakes. I modified my vanilla and chocolate marble cake to come up with these lovely cupcakes, so I didn't take step-by-step photos. The recipe is posted below!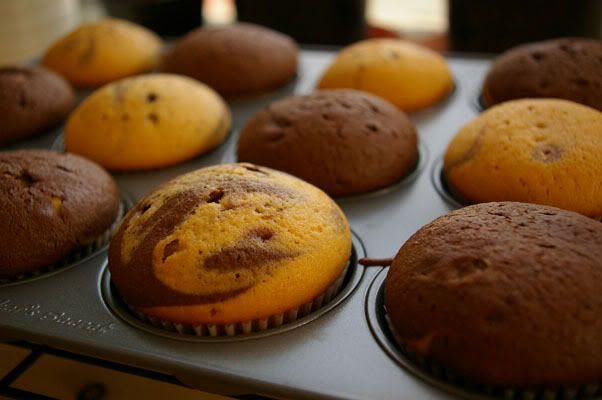 Fresh from the oven. I made a recipe and a half and filled the cups quite high, so the domes came out beautifully, I think.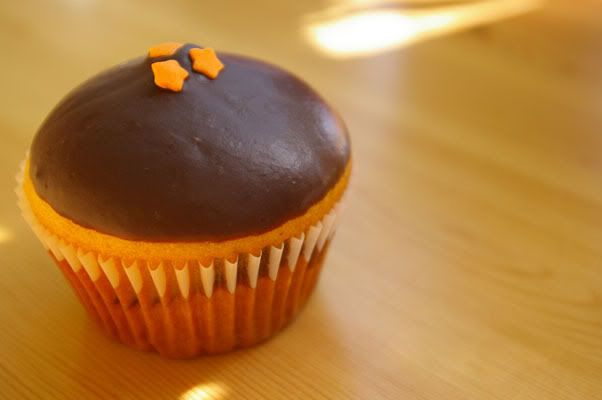 I made a simple chocolate ganache with some orange juice concentrate in it to top them, and decorated them with a few orange star-shaped sprinkles.



Recipes

Chocolate Orange Marble Cupcakes

×××

1 ½ cups + ¼ cup all purpose flour
½ teaspoon baking powder
¼ teaspoon baking soda
¼ teaspoon salt
1/3 cup canola oil
1 ¼ cups sugar
2 large eggs
1 teaspoon vanilla extract
½ cup plain yogurt
¼ cup unsweetened cocoa powder
1/8 to ¼ cup thawed orange juice concentrate

×××

Preheat oven to 350°F. Line a muffin tin with papers. In a small bowl, combine flour, baking powder, baking soda and salt. In large bowl, with mixer at low speed, beat oil and sugar until blended. Add eggs, one at a time, beating well after each addition and occasionally scraping bowl with rubber spatula. Beat in vanilla. Add flour mixture alternately with sour cream, beginning and ending with flour mixture. Beat until smooth, occasionally scraping bowl. Transfer half of batter to medium bowl. Add cocoa to batter in one bowl and orange juice concentrate to the other and beat until blended. If the orange batter is runnier than the chocolate, add the remaining ¼ cup of flour. Alternately spoon orange and chocolate batters into cups. With a knife, cut and swirl through batters to create marbled effect. Bake until a toothpick inserted in the centre comes out clean, about 25-35 minutes. Cool cupcakes in tin on a wire rack for ten minutes. Remove from pan to cool completely on rack.

For the ganache, all I did was melt some chocolate, add some cream and then add some of the left over orange juice concentrate. I didn't add very much liquid, as I wanted the ganache to form a thick layer over the dome of the cupcakes. When the cupcakes have cooled completely, dip the domes of the cupcakes into the ganache.

Guten Appetit!