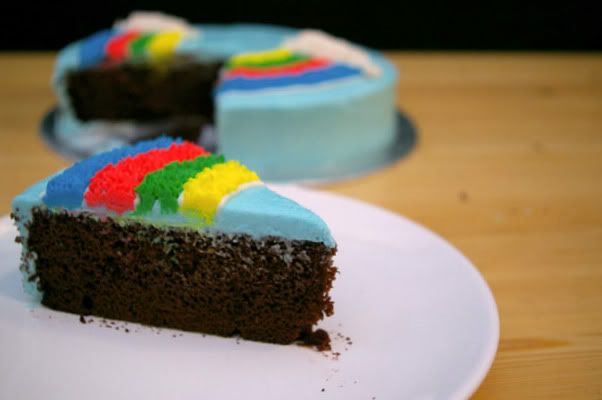 Last night I had my second Wilton class in which we decorated our cakes with the Wilton rainbow!
On Wednesday night I baked my cake.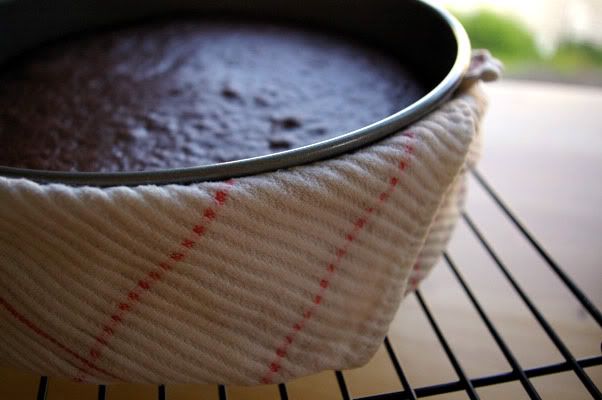 Now, I did two things I don't normally do. I used a mix and I wet a dish towel and wrapped it around the pan to make it bake more evenly.
I don't like that mixes call for so many eggs. Three? Geez! But I do love the homemade bake-even strip I used. In the first Wilton class the instructor suggested we get the Wilton brand ones, but using a dish towel is a lot more... free. So all I did was roll up a dish towel to fit the height of the cake pan, soak it, ring it, wrap it around the pan and secure it with a couple of safety pins. It made my cake bake completely evenly. I didn't have to level it at all and the outside edge wasn't over-baked. It was excellent.
I did have to bake the cake for about ten minutes longer, because the wet towel kept the pan cooler than normal. But if you're planning on using this trick, make sure to check the cake around the suggested baking time and determine just how much extra time it will need!

Anyway, yesterday I spent a tonne of time making different frostings and then frosting the darned cake.


I'm really not good at frosting cakes. It took me about an hour and it was really uneven and not very smooth. But I let the frosting set for a bit and then rubbed it down with parchment paper to try to smooth it out a bit. If you'd like a tutorial for that, check out this video! This lady does it with a paper towel, but you can do it with parchment, as well.

Finally, I took the half hour bus ride to Michael's (the bus system sucks here) and decorated my cake!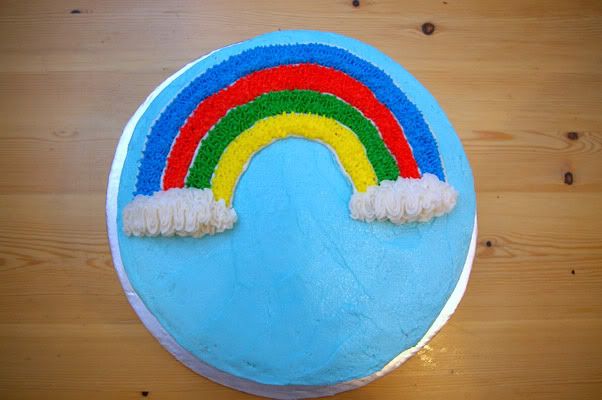 It turned out pretty well! The colours were insanely bright (although the photos make them look brighter than they actually were), and I managed to make my rainbow pretty even. It was fun to do, too.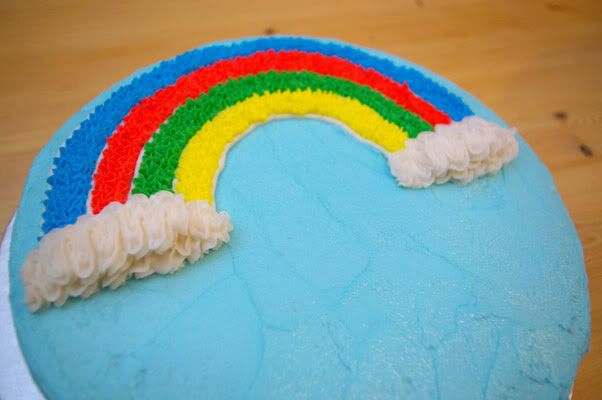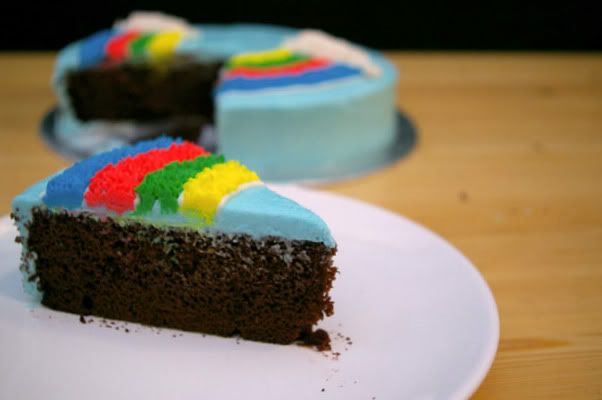 When I got home, a good friend came over and shared some with me.



So I just have to say, I think the Wilton "butter"cream is disgusting. It's all shortening and no butter. It tastes like sugar and chemicals. I think next week I'll frost the cake with a real buttercream and just decorate with the Wilton buttercream. If you're interested, the recipe for the Wilton buttercream is below. I think I would probably stick with the basic recipe, but replace the shortening with butter - I think then it would be pretty decent.
Overall, however, I'm pleased with the class! It's fun to learn some decorating techniques, even if they are really simple. I'm hoping that after I'm done this course, I can just find the books for the other courses and follow those instead of doing the other courses. Mostly because it's ridiculously impractical for me to get to Michael's, but also because it's all pretty well laid out in the books and now that I've learned how they teach things in the courses, I think I can just transfer it to the next levels. I think I would recommend the first course to anyone who wants to learn the basics of frosting!

Recipe

Wilton Buttercream
1 cup solid white vegetable shortening*
1 teaspoon Wilton Flavour**
3 tablespoons milk or water
1 lb. confectioners' sugar (approx. 4 cups)
1 tablespoon Wilton Meringue Powder***
pinch of salt (optiona)

Cream together shortening, flavour, water and salt if using (it's good to dissolve the salt in the liquid, otherwise it might dissolve later in your frosting and mess up the colours). Add dry ingredients and mix on medium speed until all ingredients have been thoroughly mixed together. Mix for an additional minute or so, until creamy.

*they suggest Crisco because it's very white
**my instructor recommended a mixture of colourless vanilla and butter flavours, but I just used regular vanilla... coloured and all
***this helps stabilise the frosting - I actually like the product.

This recipe makes about three cups of stiff consistency frosting. Wilton has three consistencies they use in class and it's actually pretty useful to know them and what they're used for.
Stiff consistency is used for things like flowers with upright petals, like the Wilton rose or sweet peas.
Medium consistency is used for stars (with the star tips), figure piping, borders (like the shell border) and floweres with petals that lie flat. To make medium consistency frosting, add one teaspoon of water for each cup of stiff frosting, or one tablespoon if you want to make the full recipe medium consistency.
Thin consistency is used for writing, making vines, leaves and frosting the cake. To make thin consistency frosting, add two teaspoons of water for each cup of stiff frosting, or two tablespoons for the full recipe).