On Friday, I finished my last exam for the year and decided it would be an excellent time to start whipping up some food fro the excellent recipes I've been nicking from
Bake! Bake! Bake!
Well, I suppose only one is from there.
But, let me take you back a few days before that, to Wednesday. Picture it... you walk into the grocery store and there they are... baskets of strawberries... 2 for $3.00. No joke. Suddenly I found myself rummaging through pallet upon pallet of strawberries, looking for the best two baskets I could find. Of course, I didn't actually decide what I was going to do with them until the day I ended up using them, Friday.
So anyway, Thursday I write an exam, and study the rest of the day for my Friday exam. On Friday I finish my exam, which was supposed to be three hours long, head to Tim Horton's and make it home before the first hour of the allotted time is up. Most of my planning was done then, while I sat on the couch drinking an iced cappuccino, eating a double chocolate muffin and thinking about how I didn't have to think anymore. Sweet relief.
After seeing 29983439834 posts about it on Bake! Bake! Bake!, I decided to make rainbow cupcakes. I also found a recipe for olive oil pie crust that looked like it might actually work (two failed attempts preceded this one), and decided to pick up some peaches to design a peach and strawberry pie. Finally, I figured I'd try something new for dinner and make some lasagna, the idea for which I stole from Restaurant Makeover (<3). Onward to downtown, where I stopped at the kitchen store and bought a pastry cutter/blender, a tiny piping kit and some concentrated gel food colouring. I ended up spending more there than I did on the actual food for the day. After that it was on to the grocery store where I found everything I needed. The walk home was delightful, as the weather has finally decided to be spring-like. Ahhh.


The first order of business when I got home was to make the pie crust: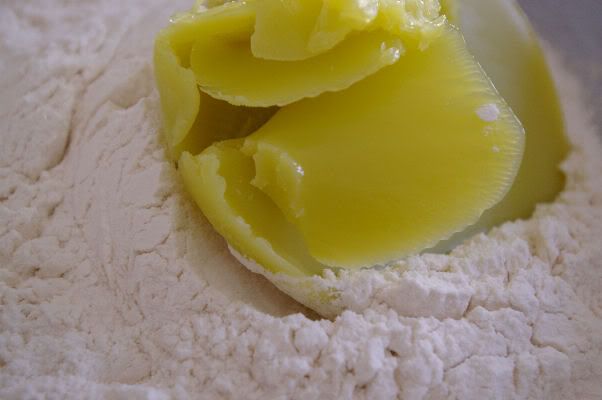 The key is to freeze the olive oil first. So I popped a bowl full of it into the freezer before I went out. It was a good working consistency by the time I got home from downtown (about 1.5 to 2 hours, but I guess it depends on the freezer).
While that was chilling in the fridge I set to work on the filling: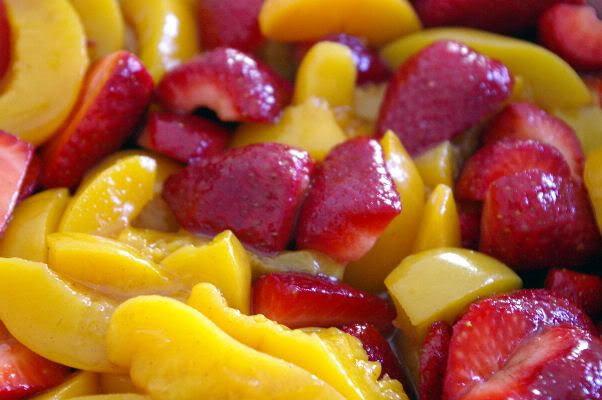 I had to use tinned peaches because, of course, peaches aren't in season right now. The strawberries are fresh though. To make this I just sliced up the fruit and tossed it in a maple cinnamon glaze.

Delish

.
This is what it looked like when all was said and done: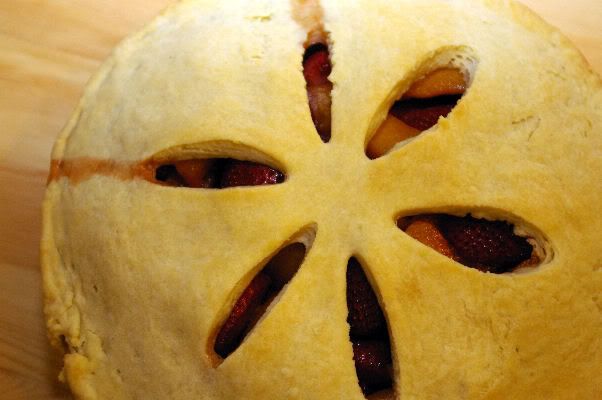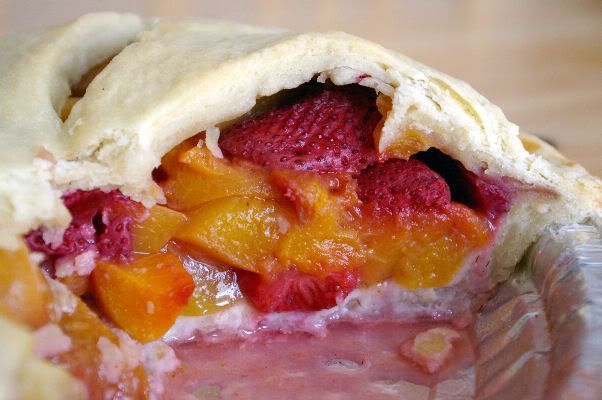 I made the crust a little too thick, and the fruit was a bit too juicy, which led to a partially uncooked/soggy crust in some places. The flavour of the crust was great though, and the filling was excellent as well. The best part was knowing that the olive oil pie crust wasn't actively clogging people's arteries as they ate!

Next I made rainbow cupcakes, which were a huge fad on Bake! Bake! Bake! for a little while.


They had quite a nice flavour, but were

extreeeemely

dense. I will probably never use this white cake recipe again. Eating a cupcake was like eating an entire, really unhealthy meal. Tasty though.
This is what they looked like inside:


I kind of made up the frosting for these, because we didn't have any milk or cream in the house for

buttercream

. We did, however, have sour cream, since I was using it for the cupcakes.

Finally, I made some lasagna for Anders, Ally and myself. Of course that meant making both meat and vegetarian. And, of course, I did it a little differently than normal. Instead of layering it in a dish the traditional way, I made lasagna rolls. It was later christened "surprise lasagna" following a phone conversation with my sister, in which the description of the dish was a little confused.

This is what my dinner looked like: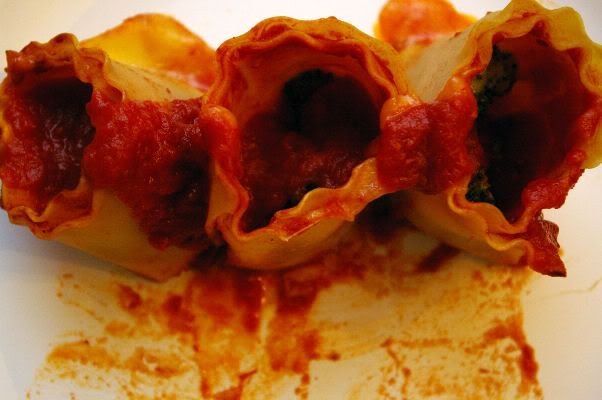 Recipes





Olive Oil Pie Crust



2/3 cup of extra virgin olive oil
2 ½ cups of all purpose flour
1 teaspoon salt
1 teaspoon baking powder
½ cup ice water
1 tablespoon of vinegar

×××

Place olive oil in the freezer until it solidifies and is of a consistency similar to thick honey, approximately 3 or 4 hours.
Combine flour, salt and baking powder into a bowl and mix. Add remaining ingredients and blend with a pastry blender. Place dough in an air tight container or plastic wrap and place it in the fridge for an hour or so to chill.
Roll ball out to 1/8 inch thickness and fit into a pie plate. Use as you would a regular pie crust.

×××

I got this recipe from

DaffodilLane

on

Flickr

.



Filling



3 ½ cups peeled, sliced peaches
3 ½ cups washed, hulled and halved strawberries
½ cup maple syrup
2 tablespoons butter
cinnamon to taste
2 unbaked pie crusts

×××

Hull and wash the strawberries, then slice them in half. Wash and peel fresh peaches, or drain tinned pears. Slice peaches into quarters or eighths.
In a pot, heat maple syrup, butter and cinnamon, stirring constantly. Bring the mixture to gentle boil for a few moments and remove from heat. Allow the glaze to cool slightly, and toss with strawberries and pears.
Pour the filling into one of the pie crusts and cover with the other.
Bake at 400° for 15 minutes, and then reduce heat to 325-350° for 20 to 25 minutes. Allow to cool slightly before serving.



Rainbow Cupcakes



1½ cups all-purpose flour
1½ teaspoons baking powder
½ teaspoon salt
½ cup (1 stick) unsalted butter, room temperature
¾ cup sugar
2 large eggs
1 ½ teaspoons vanilla extract
2/3 cup reduced-fat sour cream

×××

Preheat oven to 350°. Line a standard (12-cup) muffin tin with paper liners. In a small bowl, whisk together flour, baking powder, and salt; set aside.
With an electric mixer, beat butter and sugar until light and fluffy, about 5 minutes. Beat in eggs, one at a time, until combined. Beat in vanilla.
With the mixer on low speed, gradually beat in flour mixture and sour cream in alternating batches, beginning and ending with the flour. Divide batter evenly among prepared muffin cups.
Bake until a toothpick inserted in the centre of a cupcake comes out clean and the top is springy to the touch, 20 to 25 minutes. Cool 10 minutes in the pan, then turn out onto a rack to cool completely before spreading with frosting.

×××

This is a Martha Stewart

recipe

, which I took from the Bake! Bake! Bake! community.

Frosting
3/4 cup softened butter
1 1/4 cup confectioners' sugar
1/4 cup sour cream
Vanilla to taste
Food colouring (optional)

×××

Place all ingredients in a bowl and whip with an electric mixer on medium-low. The frosting tends to look slightly strange and lumpy for a while, but will smooth out nicely after a few minutes of whipping.

And as far as the lasagna goes... well there is no recipe, really. Here's what I did:

I cooked a whole bunch of regular lasagna sheets, grated some cheese (I cut up some

emmental

for mine, actually), cut up some

broccoli

and browned some beef (for Anders).
When the pasta was done,

Ally

and I spread out the sheets on cutting boards, spread sauce over them, sprinkled them with cheese, and bunched some

broccoli

up at one end of the sheet. Starting at the end where the

broccoli

was, we rolled the pasta up onto itself and put them in a

Pyrex

baking dish on their ends.
For Anders, I mixed the beef up with the sauce, then spread that onto the pasta sheets. Before rolling it up I put some wilted spinach in and also baked them on their ends in a

Pyrex

dish.
They take about 20 minutes in the oven at 350° or so.

That's really all there is to it. Just pick a sauce you like (I used

Marinelli

, which is our favourite), some toppings you like and roll it all up.

Next, I'm making pink lemonade cupcakes!

Guten Appetit!