Yesterday I made my attempt at pink lemonade cupcakes, adapting a recipe
thebyrds posted
some time ago on Bake! Bake! Bake!
First of all, I doubled the recipe to get 12 regular-sized cupcakes. I also changed some ingredient amounts to taste and omitted the food colouring, since the pink lemonade mix made the cupcakes a very pleasing pink on its own. I made my own variation of buttercream frosting, which I have begun to call sour buttercream frosting, and just added some pink lemonade concentrate.
I like the texture of these cupcakes a lot better than the rainbow ones, but they're still sort of dense. They're also not too terrible for you, which is always a bonus.


As much as I wanted to cut down the number of photos I was going to post for these, I liked so many of them. Plus it's a fairly short post, so deeeeeeal.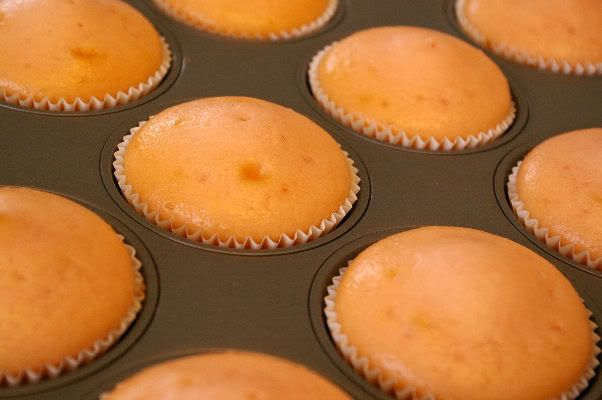 Naked, fresh out of the oven.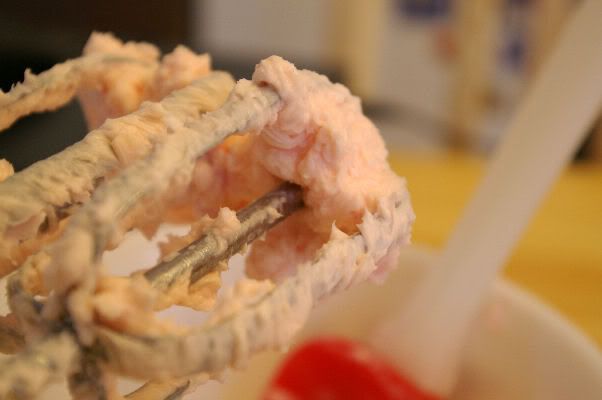 Frosting, waiting for the cupcakes to cool.



Decorated and deliiiish.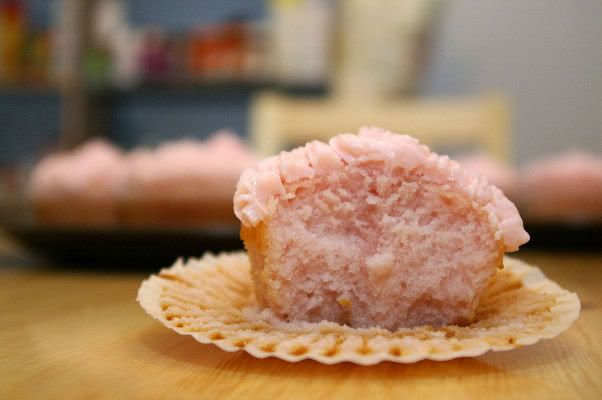 Pink Lemonade Cupcakes

2 cups all-purpose flour
1 teaspoon baking powder
½ teaspoon baking soda
2/3 cup granulated sugar
½ cup vegetable oil
4 egg whites
3/4 cup thawed frozen pink lemonade concentrate
½ cup milk

×××

Preheat oven to 350°F. Line muffin pan with liners.
In a small bowl, combine flour, baking powder, baking soda and salt. Set aside.
In a large bowl, whisk together sugar, oil, egg whites and lemonade concentrate. Alternately whisk in flour mixture and milk, making three additions of flour mixture and two of milk, beating until just smooth.
Scoop batter into liners. Bake in preheated oven for 20-25 minutes. Let cool in pan on rack for 10 minutes. Remove from pan and let cool completely on rack. Top cooled cupcakes with frosting.

Pink Lemonade Buttercream Frosting

3/4 cup softened butter
1 1/4 cup confectioners' sugar
2 tablespoons sour cream (4 tablespoons or 1/4 cup if it wasn't flavoured with pink lemonade)
2-3 tablespoons pink lemonade concentrate, thawed
Vanilla to taste

×××

Place all ingredients in a bowl and whip with an electric mixer on medium-low. The frosting tends to look slightly strange and lumpy for a while, but will smooth out nicely after a few minutes of whipping.

Guten Appetit!