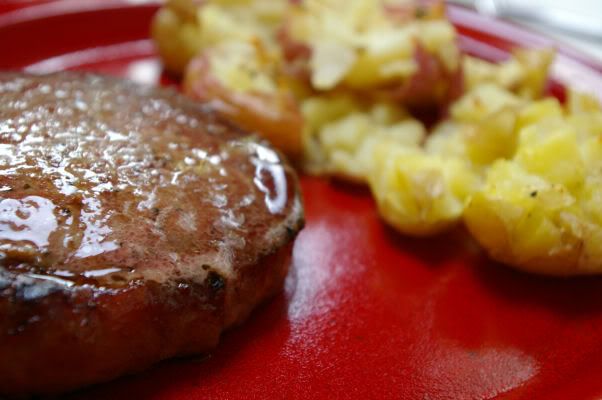 This past weekend, Anders parents went away so we got to spend some good quality time together. Which, naturally, meant lots of cooking. I love cooking for him! He eats so much. It's
great
.
My newest endeavour and quest (because I totally gave up on the Brötchen one, until I can get a real recipe from a real German) is mastering steak. I did it for Anders' birthday with a filet, which went fine, but I was told (later) that it could have used a bit more flavour. I also made an attempt of it a few weeks ago, one night before Anders was racing. But I was stressed or something and ended up overcooking the damned eye-of-the-round I had bought from the farmers' market (seriously, buying meat at a market is key; $3.59 for a steak!). And this weekend, I thought I would give it another try. We did some research on marinades before I got started and Anders went to do his workout.
I ended up marinading it for about two hours in a mixture of olive oil, soy sauce, garlic, salt, pepper, and a bit of white wine vinegar.


I didn't just leave it out on the counter, though. I covered it with a plate and let it sit in the fridge.

I also made a marinade for the portabello mushroom cap I bought for myself. It was olive oil, white wine vinegar, salt, pepper, and garlic.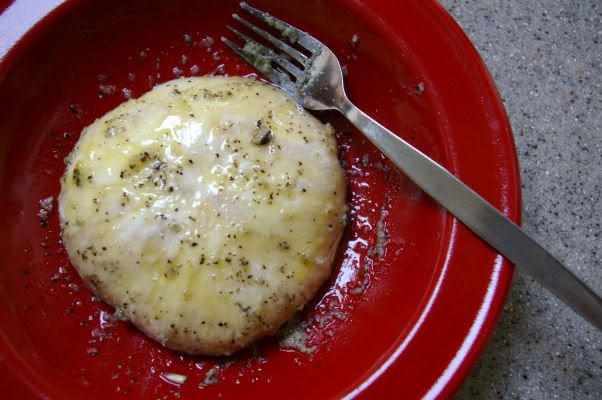 While the steak and my mushroom were doing their respective thangs, I prepared the potatoes I had bought, also at the market, for crash hot potatoes. This idea came from Pioneer Woman. I can't help myself. her recipes are delicious and she is my idol.


Ooh, two colours.

And then I threw them in a pot of boiling water.


Photographs of boiling water are cool.

Once they were fork tender, I drained them, spread them out on a lightly oiled cookie sheet (in a pattern of red, white, red, white, because I'm crazy), and half smashed them with a metal spatula.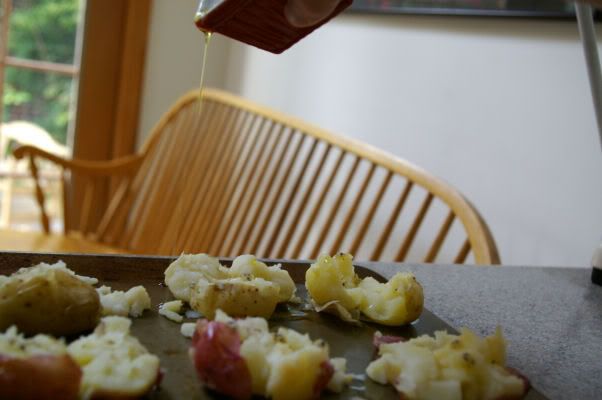 I made up a mixture of olive oil, garlic, salt and pepper, and drizzled it over top of the smashed potatoes. Boy, is this photo bad, or what. Then I put them in the oven at 375°F (because that's the temperature it had to be at for the steak).



At this point I did some dishes, made a spinach and strawberry salad (with a sweet lemon dressing), watched some TV and waited for Anders to get home so I could start the steak and mushroom.






This is what your stove would look like if you were vegetarian and dating a guy who loves steak.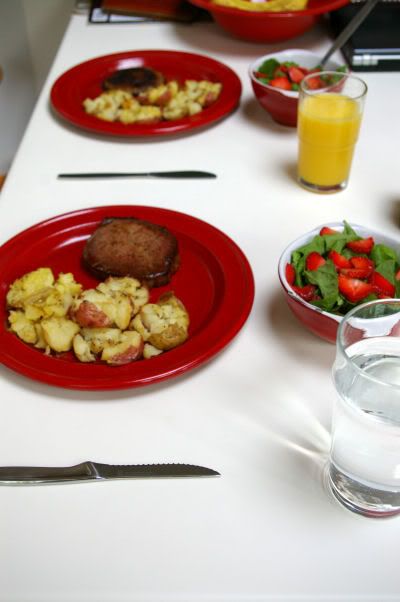 Mmm, dinner on the table.

Want a better idea of what our dinners looked like? No? TOO BAD.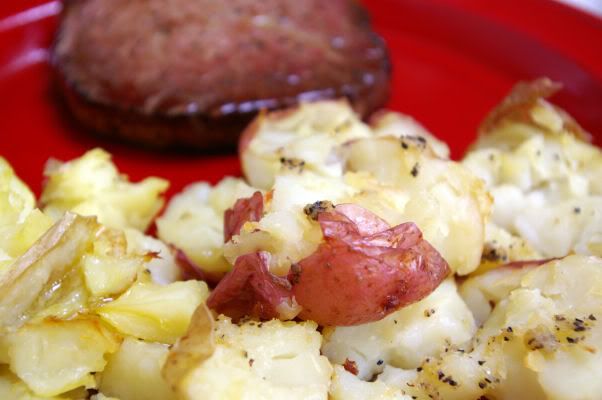 Ooh, crash hot potatoes.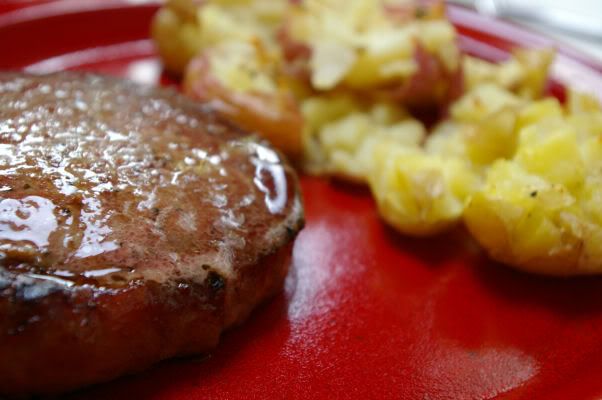 Aah, steak.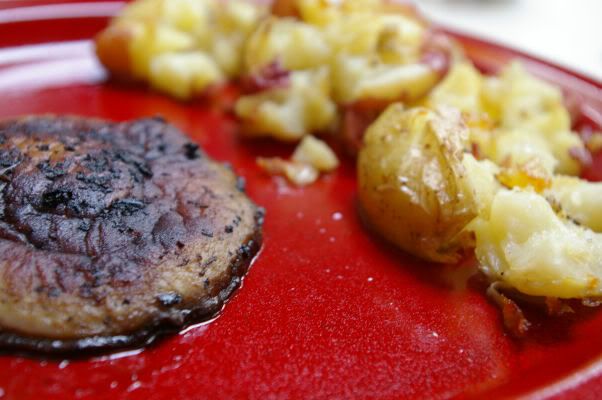 Ooh, portabello mushroom (too bad I charred it... I was so concerned about the stupid steak).



Aah, spinach and strawberry salad.



So there you have it. I can only really comment on the potatoes, which were totally delicious, but could have been crispier (the oven wasn't hot enough, but I knew that), and the mushroom cap, which was also delicious, if a bit charred. It really helps to marinade mushrooms before cooking them. They don't feel so rubbery, and they really absorb... well they absorb anything, but especially flavour in this instance. The salad was also delightful and simple.
And the steak? I'm told it was better than the last one I overcooked, but should probably be marinaded longer to really be flavourful. BUT the flavouring it did take on was tasty (apparently). So at least I know how to flavour, now I just need to plan ahead a bit more, I guess.

I know I would usually post a recipe or three right about now, but it's all pretty straight forward, and in the experimentation phase. You can look at PW's recipe, linked above, for crash hot potatoes, since that's the one I used (basically), and for now, here's a rough idea of what I did with the steak.

Eye of the Round, Marinaded
3 tablespoons olive oil
1 tablespoon soy sauce
1 clove of garlic, crushed or grated on a rasp
1-2 teaspoons white wine vinegar
salt and pepper to taste

×××

Place the steak in the marinade, cover and refigerate until ready to cook (at least half an hour). Flip over in the marinade every half hour.
Preheat the oven to 375°F. Add olive oil and a small amount of butter, just enough to moisten the bottom of a small pan (one you can put in the oven, like a cast iron pan). Heat the pan on high until very hot, but do not allow it to smoke. Place the steak in the pan and brown each side for about 2 minutes. Put the pan in the oven for 3-5 minutes, depending on how you like it cooked. When the steak is removed from the oven, allow it to sit in the pan for about 3 minutes, so the juices may redistribute in the meat.


I would also like to mention that we (read: I) made crepes the next morning (read: afternoon) for breakfast (read:linner [lunch-dinner]). I love crepes. So. Much. They are so simple and delicious and really not too terrible for you, which is great, in my books.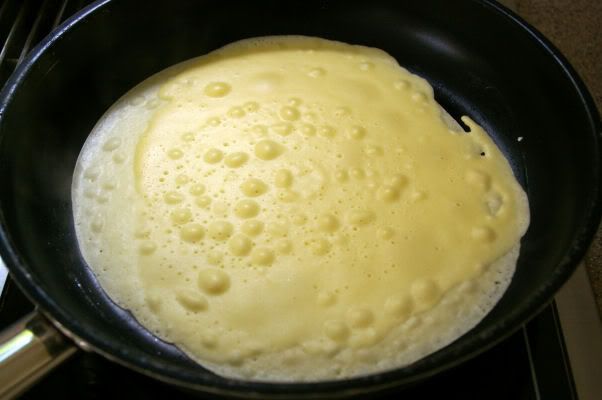 They do look funny though, when you're not quick enough to spread them out in the pan. They also bubble strangely. Point and laugh!

But before I even started making them, I hulled and washed some more of the strawberries (which were getting a bit soft in the fridge), and peeled and sauteed a pear in some brown sugar. And then I made the crepes.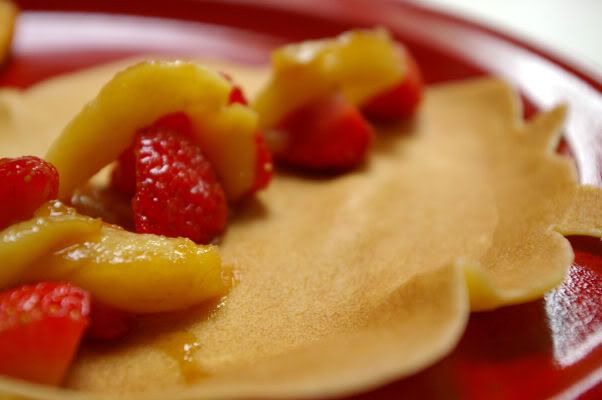 They looked something like this sexy little thing when we finally ate them (at 3PM).



This one, I have a real recipe for! One I actually followed, too! I got it from the Food Network. More specifically, it's Alton Brown's recipe. And really, does Alton Brown ever do any wrong?

Recipe

Crepes
2 large eggs
3/4 cup milk
1/2 cup water
1 cup flour
3 tablespoons melted butter
Butter, for coating the pan

×××

In a blender, combine all of the ingredients and pulse for 10 seconds. Place the crepe batter in the refrigerator for 1 hour. This allows the bubbles to subside so the crepes will be less likely to tear during cooking. The batter will keep for up to 48 hours.

Heat a small non-stick pan. Add butter to coat. Pour 1 ounce of batter into the center of the pan and swirl to spread evenly. Cook for 30 seconds and flip. Cook for another 10 seconds and remove to the cutting board. Lay them out flat so they can cool. Continue until all batter is gone. After they have cooled you can stack them and store in sealable plastic bags in the refrigerator for several days or in the freezer for up to two months. When using frozen crepes, thaw on a rack before gently peeling apart.

Guten Appetit!