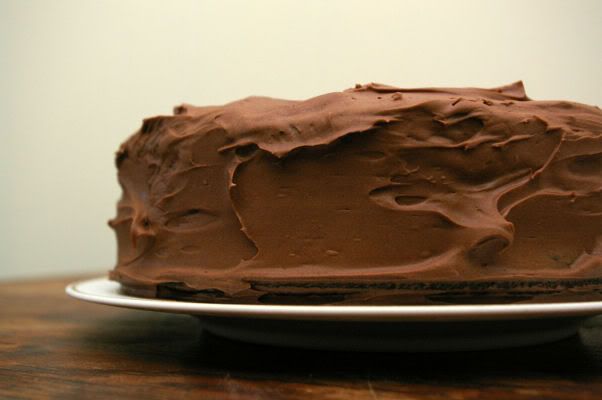 Life has been particularly busy recently. My older sister had major surgery not long ago, so the whole family has been busy checking up on her. Of course, my way of "lending a hand" during this time was to bake something delicious.
This recipe is an old standby. I remember the first time I made it; it was Anders' birthday in 2003, before we were dating, and I've made it for his birthday almost every year since (this year being one exception - I made mousse). It's such a beautiful and simple cake. No other simple chocolate cake I've tried comes close to this one in flavour, texture and moistness. Every time I've served it, people seem surprised by how rich the flavour is, without the cake being extremely heavy. Another great thing about this cake is the lack of ingredients that are really terrible for you.
I wasn't a great fan of the white sugar, so the first time I made it (on Tuesday evening), I used half the amount of brown sugar. It made the batter so sticky and thick that I had to add an extra 1/4 cup or so of water. Figuring it would be okay, I split the batter between two pans and baked them. They turned out okay, but the I noticed the next day that they looked a little flatter than they usually did, so I decided to run to the grocery store and get some white sugar to try again.
I was in a major rush to get to my sister's house on Wednesday, so I didn't photograph the whole saga, but I did on Tuesday. So, I'll come right out and say that these photos are a big lie, in that they didn't actually make the cake you will see at the end, but it's all mostly the same.
The recipe calls for brewed coffee, but being that my parents had gone away and taken all the coffee in the house with them, I had to try something else.


What I did have was a can of Tim Horton's French vanilla cappuccino mix.

I added some oil to that.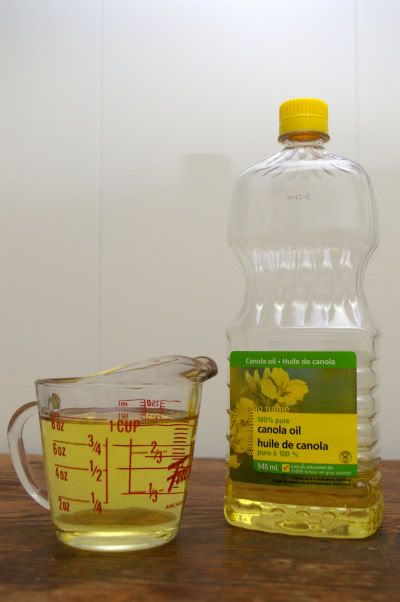 Normally I'm an olive oil kind of girl (which you should know by now), but it's too strong a flavour for this cake. I used canola oil and I also added some vanilla.

Next, I mixed together the dry ingredients, which consisted of flour, sugar, cocoa and baking soda.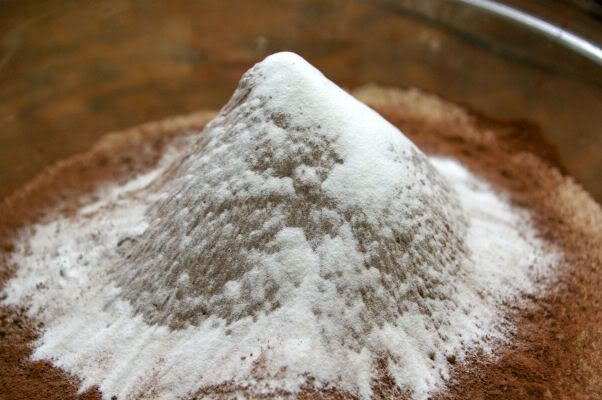 It looks like a mountain!

I always feel very satisfied when I mix up the dry ingredients and they look just like a box mix.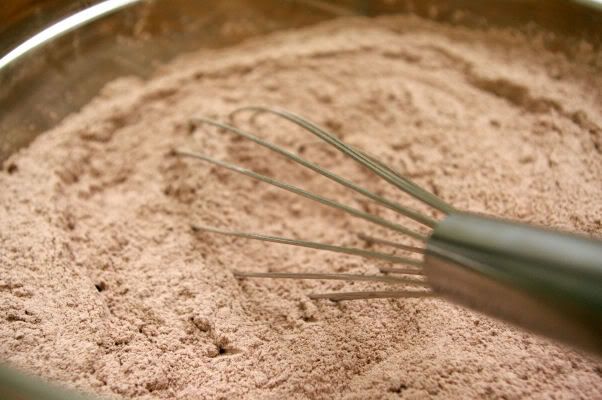 Espeically since this recipe is so simple. I doubt all the steps thus far were any more time consuming or labour intensive than opening up a box and ripping open the ingredient bags.

Finally, I mixed everything together until it was nice and smooth and deliciously chocolatey-looking.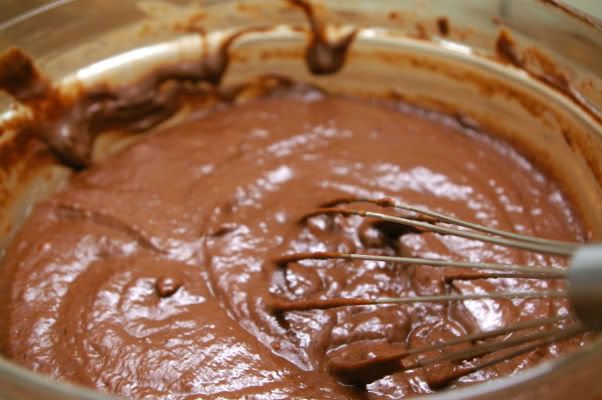 The final step, before putting it into the pans, was to add vinegar.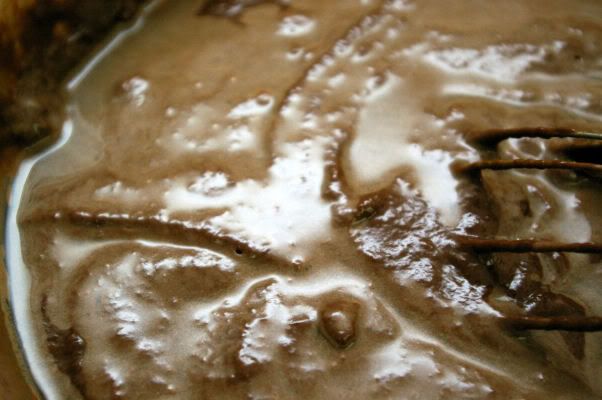 People usually think this is really weird. And I always get asked, "but... can't you taste the vinegar...?" The answer is no! The vinegar is there to activate the baking soda, which makes the cake nice and light and fluffy.

Tip: never flour your chocolate cake pans again. Ever. Grease them, and then dust them with cocoa, the same way you would with flour.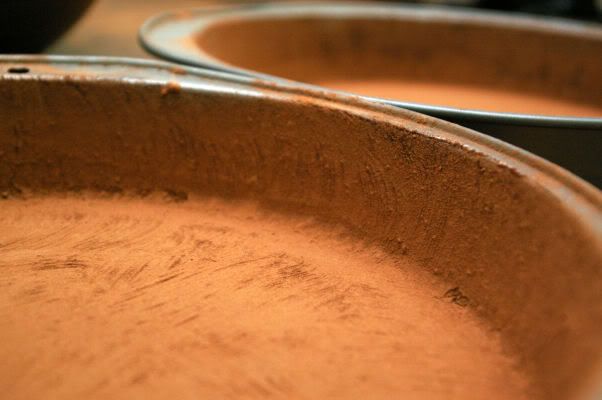 Instead of chocolate cakes with white dust around the edges, you'll have purely chocolatey-brown cakes. If you're icing the cake, maybe you don't care as much. But if you're glazing it, say with a fruit glaze, this is very handy.

Next, I divided the batter evenly between the two pans and put them into the oven to bake for about 25 minutes.



While the cakes were baking, I made some buttercream icing.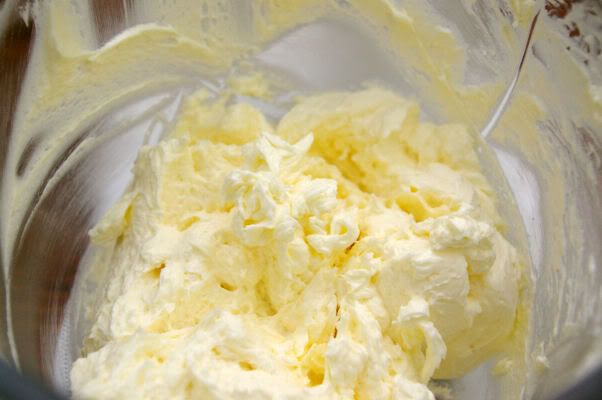 It's simply butter, icing sugar, cream (I used half and half) and vanilla.

But I'm not a huge fan of vanilla buttercream on chocolate cake, so I melted some chocolate (part semi-sweet, part 85% cocoa) and added it in.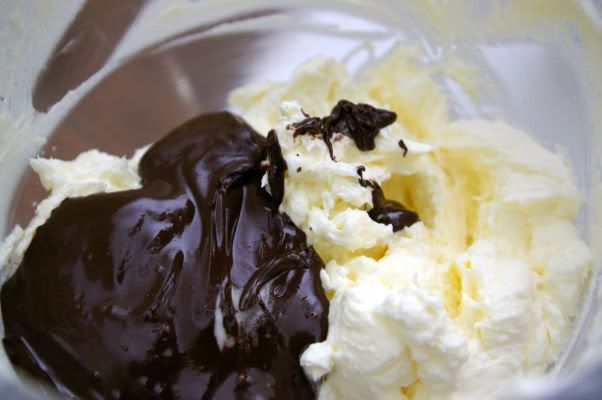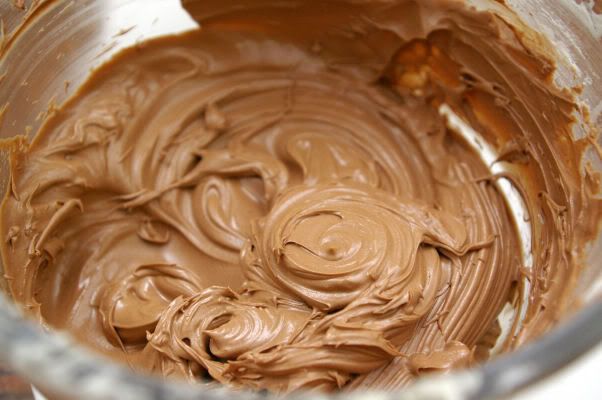 Oh my.

The cakes came out of the over shortly after I finished the buttercream.


They cooled on racks for a few minutes.

And then I popped them out to cool some more. Of course, on Wednesday I was hoping to be up at my sister's house by around 7, so I was rushing like a mad woman.


And I ended up holding the cakes up to the air conditioner so they would cool more quickly (that didn't really work).

I iced it anyway, and then threw it in the freezer until I left, so that the buttercream wouldn't completely melt.

It ended up looking pretty darn good.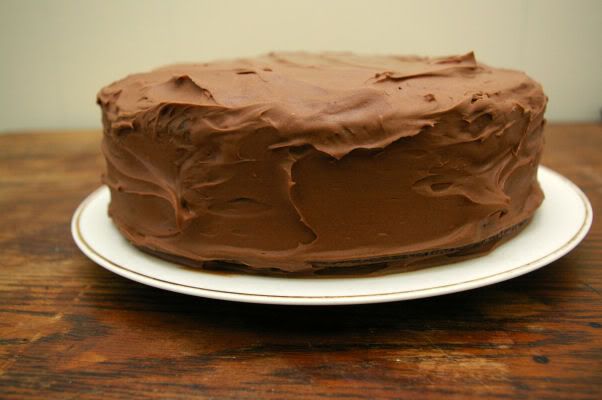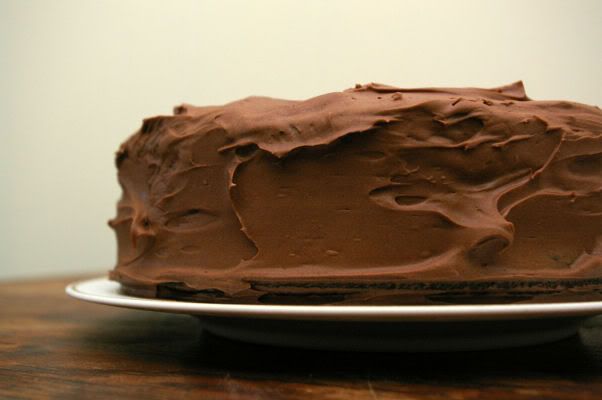 And it tasted delicious.

This is one recipe I mostly follow exactly. The one exception, being that I add more cocoa. The recipe also says to mix the batter in the cake pan (which is where the six-minute name comes from), but I prefer to mix it in a bowl, so I can grease and dust the pans. It's not that I don't trust the cake to come out on its own, but I feel safer doing it this way. It's also easier to do it this way if you're doubling the recipe, which is what I normally do. I double it and make a two layer cake. It works nicely because the cake has a rich flavour, but doesn't feel rich or terribly filling. As I said, it's a really light cake with a ton of flavour and a great texture. It's moist and chocolatey and perrrfect. You should probably make it the next time you want chocolate cake or cupcakes. You won't be disappointed. But I sort of will if you don't make it. And I don't think you want to disappoint me, do you?

Recipes

Six-Minute Chocolate Cake
from Moosewood Restaurant Cooks at Home

1 ½ cups unbleached white flour
1/3 cup unsweetened cocoa powder
1 teaspoon baking soda
½ teaspoon salt
1 cup sugar
½ cup vegetable oil
1 cup cold water or brewed coffee
2 teaspoons vanilla extract
2 tablespoons vinegar

×××

Preheat oven to 375°. Lightly grease a 9-inch round or 8-inch square cake pan, and dust lightly with cocoa powder. Sift together the flour, cocoa, baking soda, salt and sugar into a bowl. In a 2-cup measuring cup, measure and mix together the oil, water or coffee, and vanilla. Pour the liquid into the bowl and mix the batter with a fork or small whisk. When the batter is smooth, add the vinegar and stir quickly. There will be pale swirls in the batter where the baking soda and the vinegar are reacting. Stir just until the vinegar is evenly distributed throughout the batter. Pour the batter into the cake pan, and bake for 25 to 30 minutes. Let the cake cool in the pan for a few minutes before turning out to wire racks to cool completely.

This makes ONE cake. Double the ingredients for a double layer cake!

Buttercream Frosting
1 cup unsalted butter, room temperature
2 cups powdered sugar
1-3 tablespoons heavy cream
2 teaspoons vanilla extract

×××

Using electric mixer, beat butter in large bowl until fluffy. Gradually beat in sugar, then cream and vanilla.
To make chocolate buttercream, melt the desired amount of good quality chocolate and let cool slightly before adding it to the plain buttercream.


Guten Appetit!