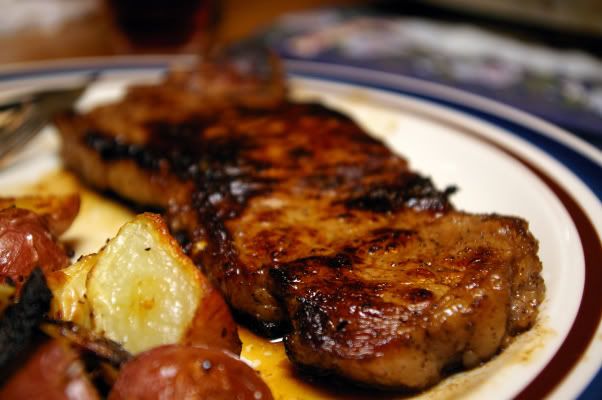 Last weekend, Anders and I spent a long weekend at my cottage. Usually, our meals there are very simple. Pasta with jarred sauce, salad, and delivery pizza. But Anders and I had the cottage to ourselves on Saturday night, since my parents wouldn't be arriving until Sunday. We went to the grocery store when we got there and decided we'd roast potatoes on the fire and make salad, but the main dish was a bit of a head scratched at first. Anders needed to eat some meat, so we looked around for a while before he decided on a nice strip steak. I got myself a portabello mushroom.


Anyway, this post is really not long, because I didn't chronicle all the steps in making this steak. All I did was make a very simple marinade and massage it in, and let the steak sit for an hour or so before cooking it. The marinade was made up of olive oil, pear infused white balsamic vinegar, and salt and pepper. It was browned in olive oil in a cast iron pan for three minutes on each side and cooked in a 325°F for four minutes.

Anders loved it! He said it was much more tender than the eye of the round steaks I had been getting and that the flavour was much better. It was cooked perfectly, too.
This is a step in the right direction, for sure. Strip steak suits Anders' tastes better, and a simple marinade is enough to coax some good flavour out of the piece of meat. This, however, will not stop me from continuing to try different things, and trying to replicate the peppercorn steak he had for our anniversary dinner out.

But for now, I'm pleased!