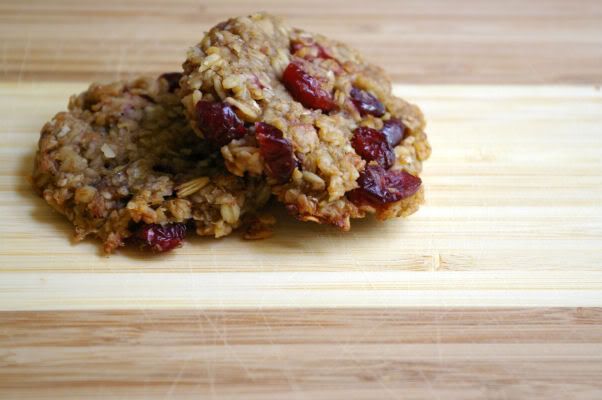 Two healthy recipes in a row?! Is this a baking blog, or is it a sissy natural food store blog? Okay, I didn't mean that. I like natural food stores. They have the best peanut butter. And their baking stuff is usually cheeeeap. And I like goat's milk soap. And organic produce.
Okay, let's move on...
Healthy banana cookies... it's another one of these recipes you can use your almost inedible bananas in, and I love those recipes, because I can only consume so much banana bread and so many banana muffins. And I really don't like wasting fruit. It makes me sad and I feel very guilty throwing those things in the green bin.
The other great thing about these cookies? They're easy. And another? They're soft. And another? They're chewy. And another? You can sort of throw whatever you want in. Sort of.

I started by mashing up some bananas, and throwing in oats, coconut, dried cranberries (left over from the granola bars), oil, vanilla and a bunch of cinnamon and nutmeg.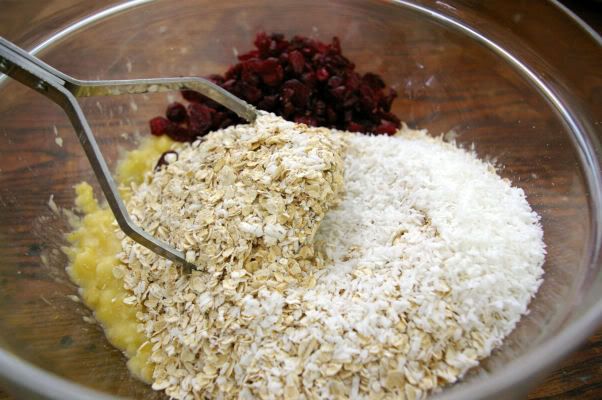 I mixed that all up and let it sit for about 15 or 20 minutes.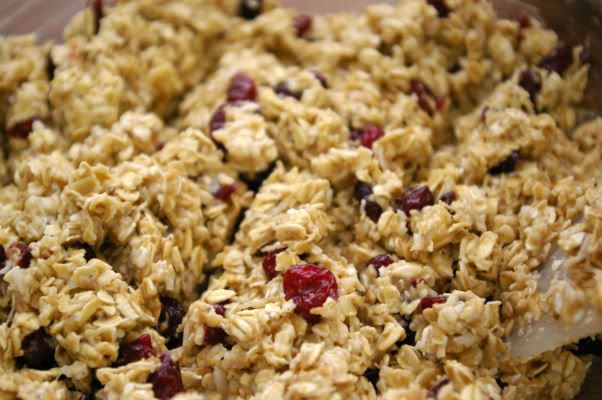 At that point, I decided it was too wet, so I added some more oats, and let it sit for a little while longer.

Then, I pulled out my trusty 1/8 cup measure to scoop the batter.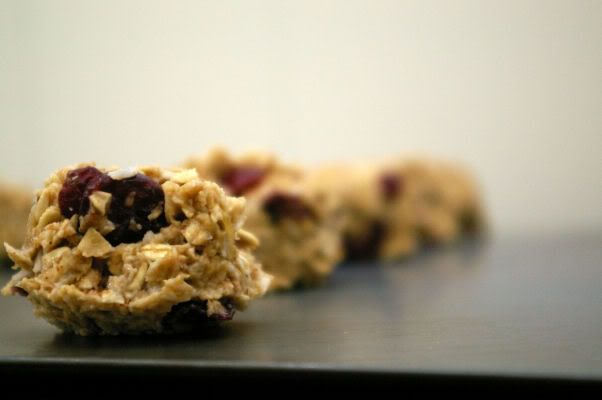 Seriously, 1/8 measure makes for the perfect size cookie.

These cookies don't flatten out during baking, so I used a spatula to press them down.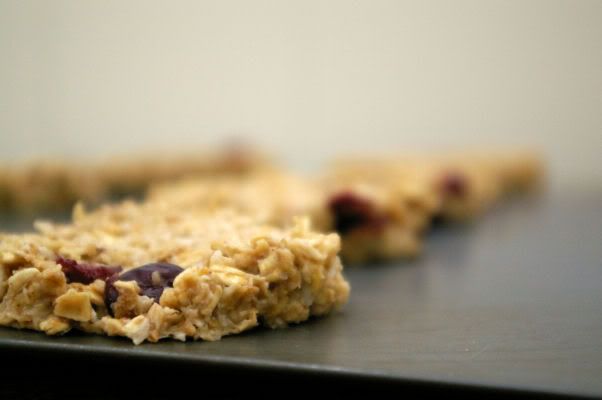 These went in the oven for about 20 minutes.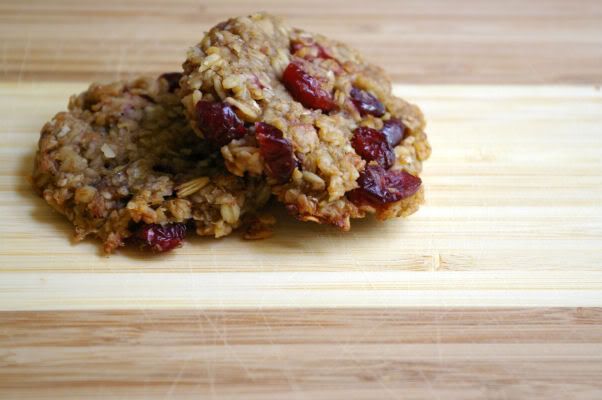 As I said, these are soft, and chewy and flavourful and light and delicious. And they're healthy. It's great. So next time you have brown bananas, make these!

Recipe

Healthy Banana Cookies

3 ripe bananas
2 ½ cups rolled oats
¼ cup dried coconut (optional)
1 cup dried fruit (like cranberries, raisins, dates, etc.)
Cinnamon to taste
Nutmeg to taste
1/3 cup canola oil
1 teaspoon vanilla extract

×××

Preheat oven to 350°F. In a large bowl, mash the bananas. Stir in oats, dried fruit, spices, oil, and vanilla. Mix well, and allow to sit for 15 minutes. Using a ¼ cup measuring cup, scoop the batter and drop it onto an ungreased baking sheet. Bake for approximately 20 minutes, or until lightly brown. Allow to cool slightly and then remove cookies to cool completely on a wire rack.

Guten Appetit!