So here's my excuse for this stretch of time without updates: it was the end of the semester, and then Christmas, and THEN when I got back to Kingston my computer's power adapter died so I was without my computer for a few days. Now, instead of doing laundry or getting ahead on reading, I've decided to update my blog. With a baked good I made over a month ago... It was for a potluck Christmas dinner I went to at my best friend's apartment, the night before I went home for Christmas.
It started with a sort of shortbread base.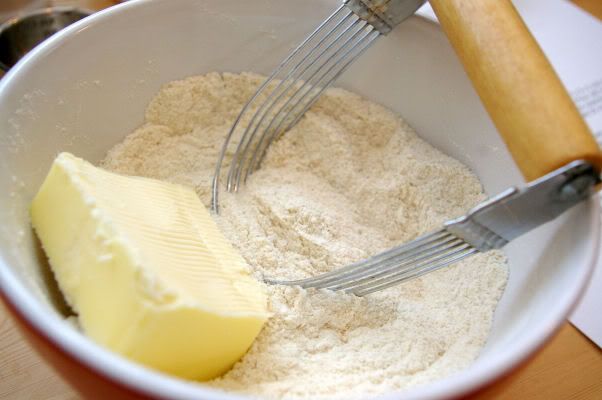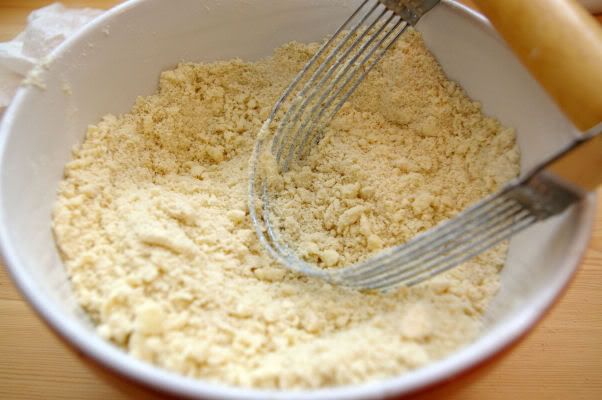 I pressed that into a greased baking dish, and baked it for a bit.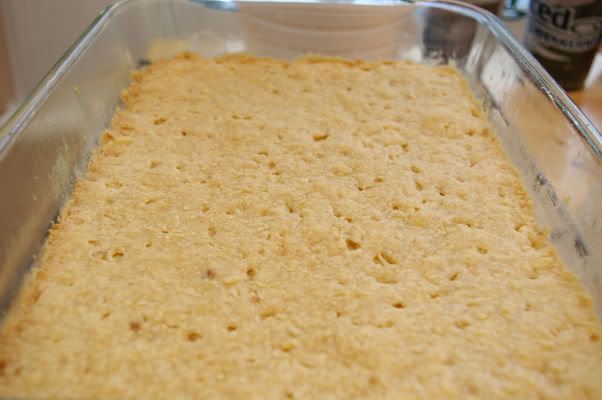 While it was baking I put together the cheesecake filling, something I'd never made before.



Now, when you say "whip together the cheese and sugar" it sounds just so wrong. But if cheesecake is wrong, I don't want to be right...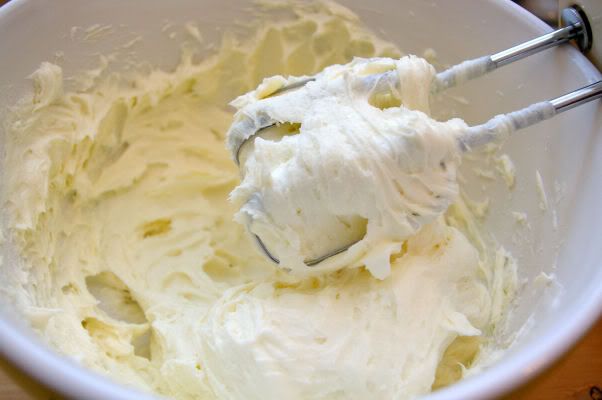 Added some eggs...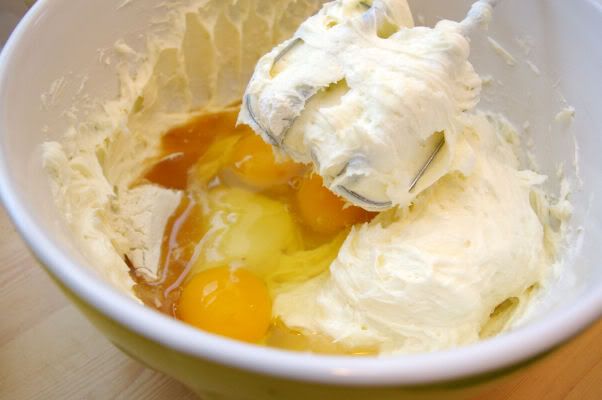 And whipped until smooooooth.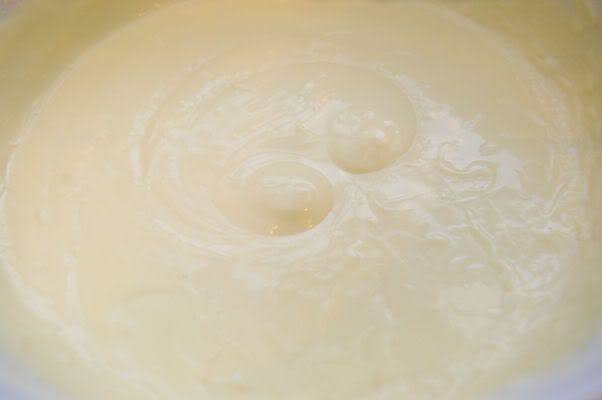 Next, I opened the can of blueberry pie filling I had bought on sale before Thanksgiving... thank goodness for canned goods.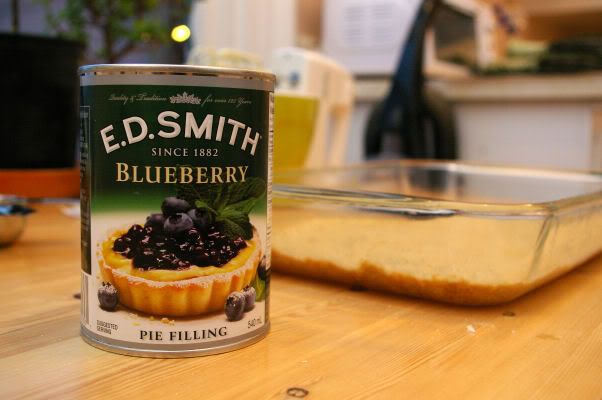 And I poured the cheesecake filling onto the shortbread base...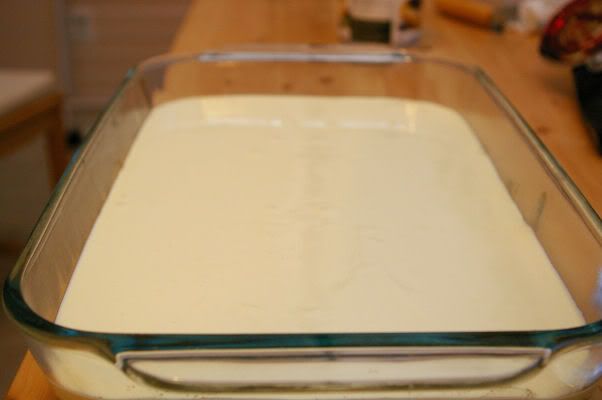 And then spooned the blueberry filling into lines in the filling.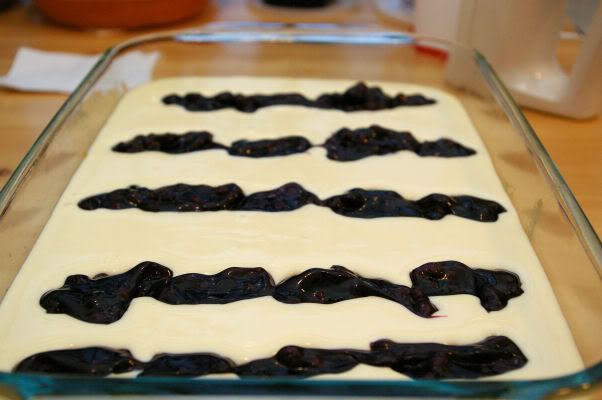 Next I took a knife and swirled the blueberry pie filling through the cheesecake filling.



It baked for a bit and then came out looking much the same as it did before I baked it, just a little more brown!


Riveting!!!!

All cut up and lovely.



Of course, I had extra pie filling, and I made this the day after I made my chicken pot pies, so I had extra pie dough, SO I made mini blueberry pies.


Cute!



The cheesecake was enjoyed by all at the potluck! I had fun making it, too, since I had never made cheesecake before. It's hard for me to say if this is a good recipe, since I hadn't made cheesecake before this, but it was very tasty and I did actually follow the recipe, so it couldn't be too bad!

Recipe

Blueberry Cheesecake Squares

×××

1 cup plus 2 tablespoons flour, divided
½ cup firmly packed dark brown sugar
1/3 cup unsalted butter
24 ounces cream cheese, softened
¾ cup sugar
3 eggs
3 tablespoons fresh lemon juice
1 ½ teaspoons vanilla
½ - ¾ cup blueberry preserves or pie filling

×××

Preheat oven to 350°F. Lightly grease a 13 x 9 x 2 inch baking pan. In a medium sized bowl, combine 1 cup of flour with brown sugar. With pastry blender cut in butter until mixture resembles coarse crumbs. Press evenly into prepared pan. Bake for 20 minutes and remove from oven to cool on a wire rack.
In large bowl with an electric mixer at medium speed beat together cream cheese and sugar just until combined. Beat in remaining 2 tablespoons flour, eggs, lemon juice and vanilla until combined. Pour over partially baked crust. Drop spoonfuls of blueberry preserves over top. With the broad side of a butter knife lightly swirl in preserves. Bake 20 minutes longer. Turn off oven; prop oven door open with handle of wooden spoon. Let cheesecake cool in oven 10 minutes; then cool completely on wire rack away from drafts. Refrigerate for at least 3 hours and then cut into squares with a wet knife.
Store in refrigerator.

Guten Appetit! And stay tuned for my Christmas baking, including a five layer cake I made for my mother's birthday on December 26th!