Over Christmas, particularly Christmas Eve and Christmas Day, I baked a lot. I made two lemon meringue pies, two types of cookies and a rather elaborate cake for my mother's 60th birthday. It was a very busy time, so I didn't do photos of my whole process and I apologise! But below you'll find my photos, recipes and thoughts on the things I made over Christmas!
Chocolate Shortbread Cookies with Hazelnuts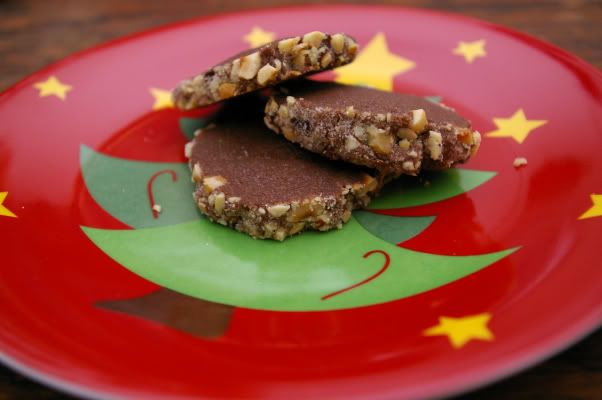 ½ cup cold butter or margarine
¾ cup flour
3 tablespoons powdered sugar
1-2 tablespoons unsweetened cocoa powder
75 grams chopped hazelnuts
2 tablespoons sugar

×××

Combine flour, powdered sugar and cocoa powder. Cut in the butter and continue mixing until a smooth batter forms. Roll the dough out into a 20 centimetre long roll.
Mix together chopped hazelnuts and sugar. Spread the mixture out on a baking pan, and roll the dough in the mixture. Wrap the dough in plastic wrap and refrigerate for one hour.
Preheat the oven to 325°F and line a baking sheet with parchment paper. Cut the roll into thin slices and place on the cookie sheet. Bake for approximately 15 minutes. Remove to a wire rack to cool.

×××

I originally got this recipe in a Sanella recipe booklet (Sanella being a German margarine brand), which my German professor gave me. I'm not a fan or a friend of margarine, so I decided to switch it out for butter, making the cookies a lot like shortbread. Also, the recipe originally called for walnuts, and I was going to be making these cookies with my sister who is allergic to walnuts, so I switched those out for hazelnuts. These are very chocolatey cookies, however, a little dry. My suggestion would be to cut the flour down to about 2/3 cup, which would not only make them less dry, but also make the hazelnuts stick to the dough better.
All in all, a very good cookie, which I plan to make again, with the minor adjustment to the amount of flour.

Ginger chocolate chunk Cookies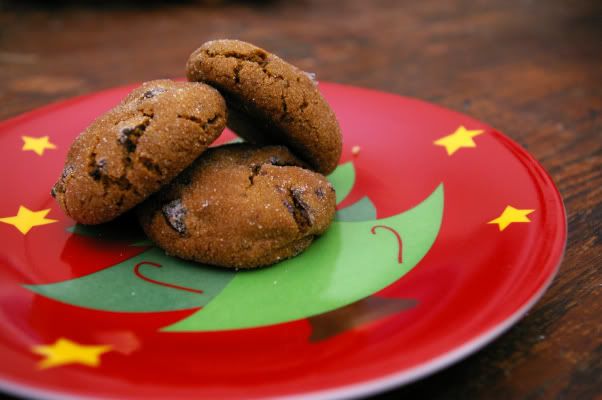 7 ounces best-quality semisweet chocolate
1 ½ cups plus 1 tablespoon all-purpose flour
1 ¼ teaspoons ground ginger
1 teaspoon ground cinnamon
¼ teaspoon ground cloves
¼ teaspoon ground nutmeg
1 tablespoon cocoa powder
8 tablespoons (1 stick) unsalted butter
1 tablespoon freshly grated ginger
½ cup dark-brown sugar, packed
½ cup molasses (not blackstrap)
1 teaspoon baking soda
¼ cup granulated sugar

×××

Line two baking sheets with parchment. Chop chocolate into ¼-inch chunks; set aside. In a medium bowl, sift together flour, ground ginger, cinnamon, cloves, nutmeg, and cocoa.
In the bowl of an electric mixer, fitted with the paddle attachment, beat butter and grated ginger until whitened, about 4 minutes. Add brown sugar; beat until combined. Add molasses; beat until combined.
In a small bowl, dissolve baking soda in 1 ½ teaspoons boiling water. Beat half of flour mixture into butter mixture. Beat in baking soda mixture, then remaining half of flour mixture. Mix in chocolate; turn out onto a piece of plastic wrap. Pat dough out to about 1 inch thick; seal with wrap; refrigerate until firm, 2 hours or more.
Heat oven to 325°F. Roll dough into 1 ½ inch balls; place 2 inches apart on baking sheets. Refrigerate 20 minutes. Roll in granulated sugar. Bake until the surfaces crack slightly, 10 to 12 minutes. Let cool 5 minutes; transfer to a wire rack to cool completely.

×××

This recipe is one I got my Anders' mum. She'd made it a few times previously and just... they are so amazing. Easily the best cookies I've ever had. The ginger is intense, the chocolate is an amazing addition and this is overall the most delicious cookie ever, and I really can't describe it well enough, so you'll just have to make them.

Lemon Meringe Pie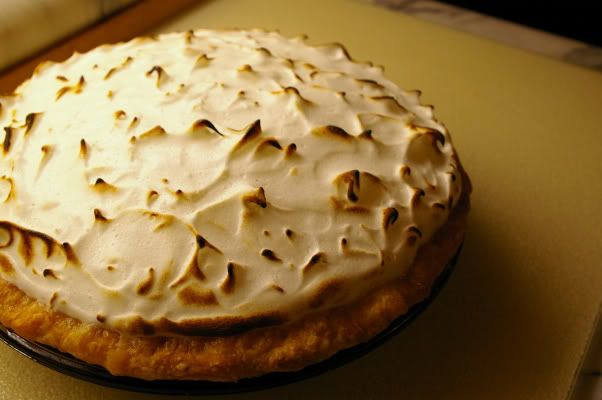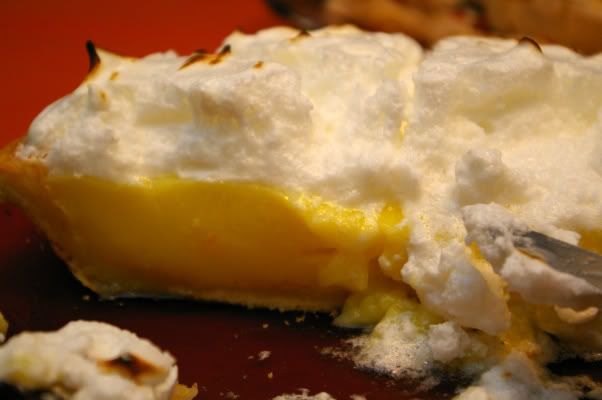 Crust
1 ½ cups all purpose flour
1 tablespoon sugar
½ teaspoon salt
2/3 cup unsalted butter, diced and chilled
1 x large egg
1 tablespoon lemon juice
Filling
1 ¼ cups sugar
1 ½ cups water
5 tablespoon cornstarch
5 large egg yolks
dash salt
1 tablespoon finely grated lemon zest
½ cup fresh lemon juice
2 tablespoon unsalted butter
Meringue
5 large egg whites
½ teaspoon cream of tartar
1/3 cup sugar
1 tablespoon cornstarch

×××

Crust
For crust, combine flour, sugar and salt. Cut in chilled butter until a rough crumbly texture and little bits of butter are still visible. In a small bowl, whisk egg and lemon juice. Pour all at once into flour mixture and combine just until dough comes together. Shape dough into a disc and chill for at least one hour.
Preheat oven to 400 °F. On a lightly floured surface, roll out dough to just less than ¼ inch thick. Sprinkle a 9-inch pie shell with flour and line with dough. Tuck in rough edges and crimp (pinch) with your fingers. Put pie shell in freezer just for 10 minutes to rest and firm up. Once chilled, line pastry with aluminium foil (and have foil hang over crust edges to protect it) and weigh down with pie weights, dried beans or raw rice. Bake for 10 minutes, then reduce oven temperature to 375 °F and bake 15 minutes more. Remove aluminium foil and weights and bake 10 minutes more, to dry out centre of the
shell. Cool completely before filling.
Filling
Whisk sugar, water, and cornstarch in a heavy-bottomed saucepot. Whisk in egg yolks and salt and cook over low heat for 5 minutes, whisking constantly. Increase heat to medium and, still whisking, cook until filling becomes glossy and thick, about 5 more minutes. Remove from heat and strain. Stir in lemon zest, lemon juice and butter until butter dissolves. Pour immediately into cooled pie shell and let cool 15 minutes. Chill completely before finishing with meringue, about 4 hours.
Meringue
Preheat oven to 350 °F. Whip egg whites with cream of tartar until foamy. While whipping, gradually pour in sugar and whip on one speed less than highest until whites hold a stiff peak (the meringue stands upright when whisk is lifted). Whisk in cornstarch and dollop over chilled lemon filling. Use sweeping motions with your spatula to create swirls and peaks that look so enticing once browned. Bake pie for 10 minutes, just until meringue browns lightly. Let pie cool or chill until ready to slice.

×××

I got this recipe from Anna Olson. I love Anna Olson. I loved the idea of a lemon meringue pie crust with lemon in it. The filling also set up really nicely, which I've had problems with in the past. It was a very delicious pie, all in all. There's nothing I would change about it and I would make a million and eat them all. Everyone who ate it liked it too. Make this lemon meringue pie.

Espresso Chocolate Cake with Hazelnut Mousse and Chocolate Ganache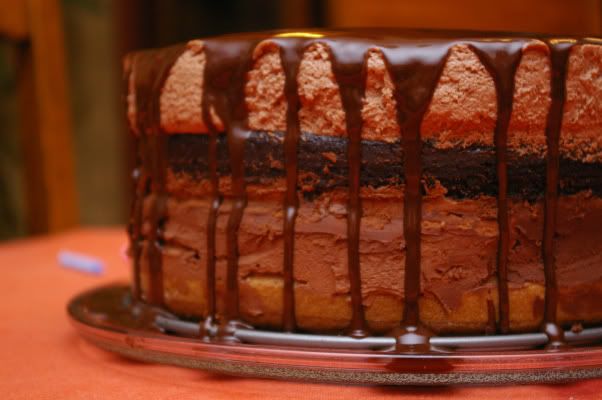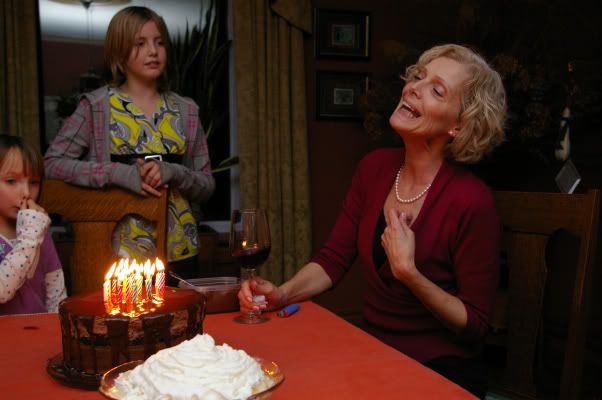 And one of my mum singing Happy Birthday to herself!

Espresso Cake

2-2 ½ cups unbleached white flour
1 teaspoon baking powder
1 teaspoon baking soda
½ teaspoon salt
1 ½ cup sugar
½ cup vegetable oil
2 teaspoons vanilla extract
1 cup espresso, cooled
¼-½ cup water
1 tablespoon vinegar

×××

Preheat oven to 375°F. Lightly grease and flour a 9-inch springform pan. Sift together the flour, baking powder, baking soda, salt and sugar into a bowl. In a separate bowl, mix the oil, vanilla, espresso and water. When the batter is smooth, add the vinegar and stir quickly. The batter will foam slightly where the baking soda and the vinegar are reacting (you should do this only when you're ready to pour the batter into the pan and put it directly in the oven). Stir just until the vinegar is evenly distributed throughout the batter. Pour the batter into the cake pan, and bake for 25 to 30 minutes or until a toothpick inserted in the centre comes out clean. Cool completely on a wire rack.

Chocolate Cake

1 ½ cups unbleached white flour
1/3 cup unsweetened cocoa powder
1 teaspoon baking soda
½ teaspoon salt
1 cup sugar
½ cup vegetable oil
1 cup cold water or brewed coffee (I used water for this one, because of the coffee layer)
2 teaspoons vanilla extract
2 tablespoons vinegar

×××

Preheat oven to 375°F. Lightly grease a 9-inch springform pan, and dust lightly with cocoa powder. Sift together the flour, cocoa, baking soda, salt and sugar into a bowl. In a 2-cup measuring cup, measure and mix together the oil, water or coffee, and vanilla. Pour the liquid into the bowl and mix the batter with a fork or small whisk. When the batter is smooth, add the vinegar and stir quickly. There will be pale swirls in the batter where the baking soda and the vinegar are reacting. Stir just until the vinegar is evenly distributed throughout the batter. Pour the batter into the cake pan, and bake for 25 to 30 minutes, or until a toothpick inserted in the centre comes out clean. Cool completely on a wire rack.


Hazelnut Mousse (only make this when both layers are cool and ready to assemble!)

1 teaspoon agar-agar powder (gelatin substitute)
3 tablespoons cold water
½ cup chocolate hazelnut spread such as Nutella
½ cup mascarpone
1 ½ cups chilled heavy cream
2 tablespoons cocoa powder
3 tablespoons sugar

×××

Sprinkle agar-agar over water in a 1- to 1 ½-quart heavy saucepan and heat over low heat, stirring, just until agar-agar is dissolved and the mixture begins to thicken. Whisk in Nutella until combined and remove from heat. In a large bowl, whisk together mascarpone and Nutella mixture. Beat together cream, cocoa powder, and sugar in another large bowl with an electric mixer at low speed until just combined, then increase speed to high and beat until cream just holds medium-firm peaks (if they're too soft, they'll deflate when everything is mixed together). Whisk one third of whipped cream into mascarpone mixture to lighten, then fold in remaining whipped cream until well combined.

Simple Chocolate Ganache
1 ½ cup whipping cream
½ lb. semi-sweet chocolate
¼ cup Nutella

×××

Chop the chocolate into small pieces, and place in a medium bowl with the Nutella. In a pot over high heat scald the cream. Remove from the heat and pour over the chocolate and Nutella. Whisk rapidly until all the chocolate has melted and the mixture is a smooth, even colour. Cool to room temperature, stirring occasionally. Whip half the ganache until soft peaks form.

Assembly

Even out the tops of the cakes by slicing off any round dome that may have formed. Place the coffee layer on the base of the springform pan and spread the whipped ganache over just the top. Place the chocolate layer on top and use any remaining whipped ganache to to fill in the crack between the two layers. Clamp the collar of the springform pan around the top portion of the chocolate layer. Spread the mousse over the chocolate layer, inside the collar and refrigerate, covered, for a least three hours. Just before serving, remove the collar and pour the remaining ganache over the top, allowing it to spill down the sides.

×××

So... this cake. Wow. I made up the espresso cake recipe based on my chocolate cake recipe (number of times the chocolate cake recipe has been altered: 3), and the flavour came out pretty well, but if I made this again, I would leave out the espresso layer altogether. In that case, I would cut the chocolate cake in half and layer that with the whipped ganache. Moving on - the chocolate cake was delicious, as always and the hazelnut mousse... wow. It was just perfect and so amazingly tasty. It went perfectly well with the chocolate cake. I'm planning to do the chocolate cake with the hazelnut mousse for Anders' birthday coming up next month.
The cake was really delicious, and while it had many layers and lots of parts, it was nearly as heavy as I was expecting and I was really pleased with how it turned out.



So that's Christmas, in a nutshell. Coming up next, tortilla soup inspired by my friend Irina, and both peanut butter chocolate chip and apple cinnamon muffins. Delicious!

Guten Appetit!